Panda Nutrition – who we are?
Bende Online Media Kft is a 100% Hungarian-owned company founded in 2016, with hungarian
suppliers and subcontractors.
In the initial years of the company, we resold food supplements, and then this range was expanded
with teas, coffees and other products, this year we are already selling more than 8,000 products in
our various web stores. In 2019, the need arose to launch our own nutrition supplement brand,
Panda Nutrition, which already has a portfolio of more than a dozen of its own products.
Panda Nutrition's products are made in a factory in Hungary, in high quality and high standard. The
products are safe and reliable. This is supported by a number of quality certificates and
manufacturing processes:
- Quality management system that meets the requirements of the ISO 9001: 2015 standard.
- Food safety management system that meets the requirements of ISO 22000: 2005
- EudraLex Volume IV. GMP system compliant with EU Guidelines to Good Manufacturing
Practice.
- Hungarian Codex Alimentarius 2-1 / 1969 (HACCP)
Collagen C [with hyaluronic acid] (100 capsule)
Panda Nutrition Collagen C is a premium capsule containing collagen (an increasingly popular
ingredient these days), which have been strengthened with hyaluronic acid and vitamin C. It is our
most popular product with tha highest market demand.
Ingredients: 920 mg collagen, 40 mg C-vitamin and 40 mg hyaluronic acid per dose.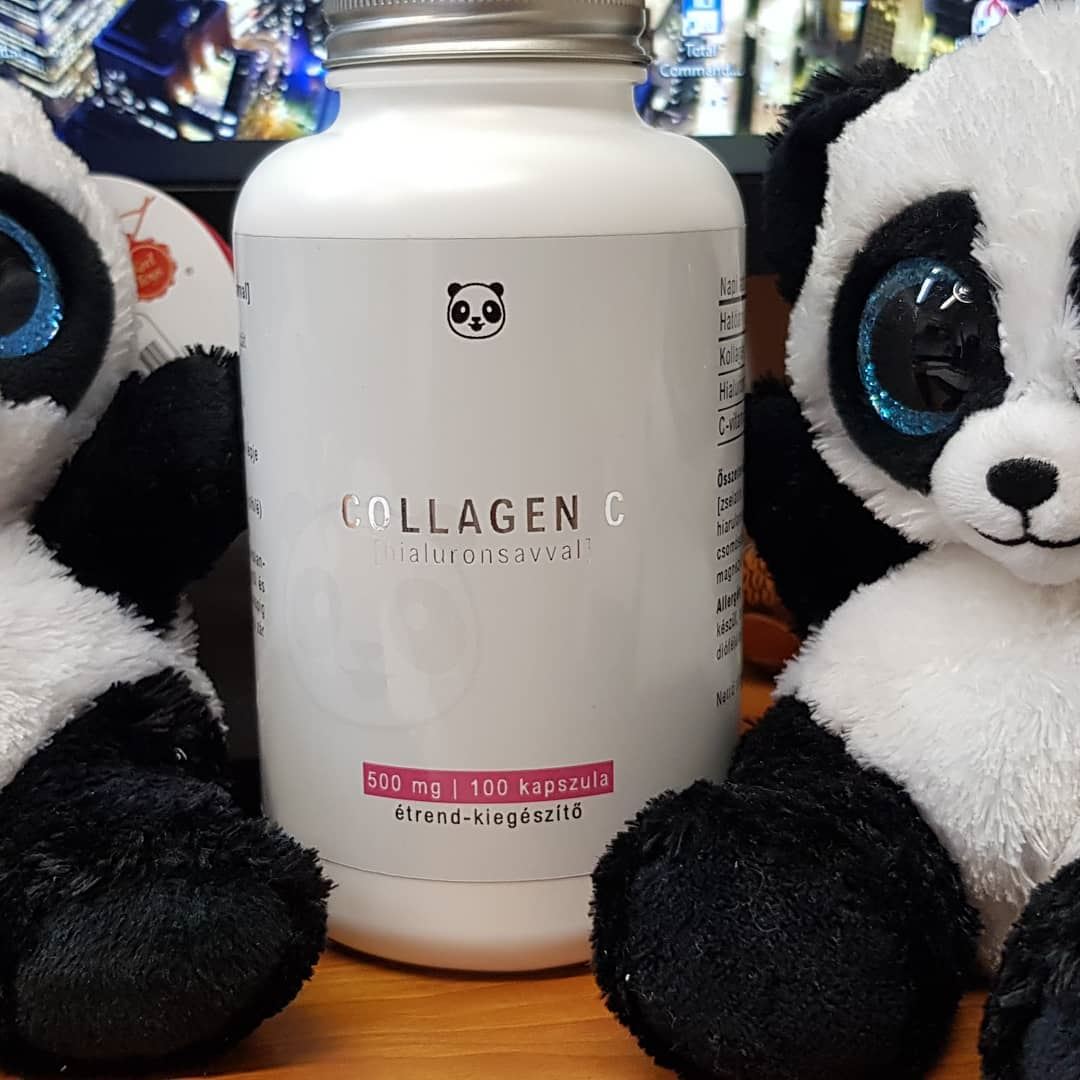 Pyruvat + CLA Slimfit (100 capsule)
Panda Nutrition Pyruvat + CLA SlimFit is a two-component dietary supplement consisting the two
most popular ingredients on the market. Based on feedbacks, these two components are the ones
that customers are most positive about.
The Pyruvat + CLA combination is an effective fat burner, which is made of completely natural
ingredients and is not harmful to health. It should be noted, however, that these are not miracle pills
because miracle pills do not exist. Weight loss requires determination, active lifestyle and moderate
eating. Panda Nutrition Pyruvat-CLA SlimFit can effectively support your diet, increasing its
effectiveness.
Ingredients: 500 mg calium-pyruvate and 250 mg CLA
Ashwagandha MAX (100 capsules)
Stressfull world. Have you ever felt the exhaustion, constant rush, tension and stress of your life? Do
you want to sit still for a few minutes and just take care of yourself?
Why should you take Ashwagandha MAX Capsules?
- It is a proven stress reliever
- 100% organic, GMO free!
- Contains natural plant extract
- Easy to swallow, capsule design
- It gives the standard excellent Panda Nutrition quality
- Recommended for both women and men
- Lactose and sugar free
- Larger version of 100 capsules
Ingredients: 320 mg Ashwagandha / capsule
Immun Forte (60 capsule)
The immune system is the most important component of the body's defenses. There are a number of
methods and nutrients that can be used to strengthen the immune system. Immun Forte is a 15-
component blend of widely used immune boosters, the elements of which work in synergy and
enhance each other's boosting effects.
Immun Forte consists of 15 assorted ingredients like Vitamin C , Vitamin D3, Vitamin E, Vitamin B2,
Vitamin B6, Vitamin B12, Folic Acid, Vitamin A, green tea extract, ginger, Panax Ginseng, turmeric,
iron, zinc, selenium.
Both vitamin C and vitamin D have a research-proven and widely accepted immune-boosting effect.
Arginin + Citrullin 5050 (300 g)
Pre-workout performance enhancing formula in mango flavor.
Based on customer feedback, we have added the two most effective "pre-workout" stimulants to our
Arginine + Citrullin 5050 powder. Both components work in a similar way, increasing the level of NO
in the blood, thereby relaxing the walls of the blood vessels and allowing more oxygen to reach the
muscles. Studies have shown that it pushes the time to exhaustion during sports and increases the
tolerance for high-intensity movements.
Ingredients: 2,5 gramm citrullin and 2,5 gramm arginin in a 5 gramm dose
Panda Nutrition Vitamin C + D (100 capsule)
High-dose vitamin C and D complex for immune system health
Vitamin C and vitamin D are the two most significant vitamins for the immune system. Vitamin C
(ascorbic acid) is a water-soluble vitamin that maintains the health of the body's connective tissue
and also acts as an antioxidant.
Ingredients: 500 mg vitamin c and 25 pg vitamin d per capsule

Ginseng Complex (100 capsule)
Dietary supplement capsules containing two types of ginseng and vitamin B12 per serving.
Ginseng is a herb that has been used for thousands of years and has played a prominent role in both
Ayurvedic and ancient Chinese medicine, and its effects are very complex. It is becoming more and
more widespread in Western cultures today, whether it is for stress relief, recovery from illness,
mental overload or even its aphrodisiac effect.
Ingredients: panax ginseng 400 mg, siberien ginseng 200 mg, vitamin b12 15 pg
Joint PLUS (90 capsules)
Complex cartilage enhancer with 11 ingredients.
Joint PLUS is a complex cartilage enhancer with 11 ingredients that helps protect joint health and
relieve joint complaints. All 11 ingredients have been shown to have clinically proven beneficial
effects on joint health and a better quality of life. The 11 ingredients are glucosamine, chondroitin,
MSM, collagen, hyaluronic acid, turmeric, bromelain, magnesium, zinc, vitamin D3 and vitamin C.
Ingredients: 100 mg vitamin C, 15 pg vitamin D, zinc 1,5 mg, mangan 300 pg, glucosamine-sulphate
1500 mg, chondroitin-sulphate 450 mg, colagen 300 mg, hyaluronic acid 45 mg, MSM 250 mg,
bromelain 25 mg, curcuma 10 mg (per a dose, 3 capsule)

HCA 500 (60 capsules)
HCA is a dietary supplement containing 500 mg Garcinia Cambogia / 300 mg of hydroxycitric acid per
capsule.
HCA is a dietary supplement containing 500 mg of Garcinia cambogia bark extract per capsule, of
which 300 mg is hydroxy citric acid (HCA).
HCA is actually hydroxy citric acid found in the peel of the Garcinia Cambogia fruit. Hydroxy citric acid
has a number of beneficial physiological effects, including dietary support.
It is recommended to consume HCA before meals to block the enzyme that converts your intake of
carbohydrates into fat, making it easier to get energy from your intake and reduce your chances of
gaining weight. HCA has been shown to reduce appetite and chronic "eating compulsion".
Ingredients: Garcinia Cambogia extract 500 mg – hidroxi citric acid 300 mg
Curcuma FLEX (100 capsules)
High-dose turmeric dietary supplement capsule against arthritis.
High dose turmeric capsule for a healthy everyday life. Turmeric is a very complex herb with many
health-preserving and quality-of-life-enhancing effects.
Effects of Curcuma FLEX
Research has shown that turmeric is effective in relieving joint stiffness early in the day, minimizing
joint edema, and increasing exercise capacity.
Ingredients: 250 mg curcuma and 7,5 mg curcumin
Multivitamin 13 (30 capsules)
Multivitamin preparation using 13 vitamins and 11 minerals.
Multivitamin 13 is a complex preparation containing 13 different vitamins and 11 minerals. Together,
they can maintain the optimal functioning of the body. Multivitamin 13 is recommended for people
over 6 years of age who want to stay healthy and meet their vitamin and trace element needs.
It can be taken during pregnancy and lactation, no sports background is required, and adequate
vitamin and mineral intake is recommended even in the presence of an average office.
Multivitamin 13 helps maintain the proper functioning of the immune system and has a number of
other positive effects.
Ingredients: vitamin A, vitamin C, vitamin D, vitamin K, vitamin e,vitamin B1, B2, B3, B5, B6, B7, B9,
B12, calcium, phosphorus, iodine, iron, selen, zinc, copper, mangan, chrom, molibden.

Vitaminocskák (30 tablets)
Multivitamin chewable tablets for children and adults alike.
Vitamins are a chewable tablet with a raspberry flavor that is easy to chew and can provide the user
with vitamin and mineral needs. Vitaminocut's mutivitamin chewable tablets contain 17 different
vitamins and minerals that help the body stay in optimal condition.
Maca X8 (100 capsules)
Maca, or Peruvian sage, is a hormone-optimizing herb from South America.
Panda Nutrition Maca X8 is a high dose maca preparation containing 800 mg of Peruvian sage. (Latin:
Lepidium meyenii) The 100 capsule pack contains 50 doses, which is outstanding in the market for
the 1600 mg dose. The maca is native to the slopes of the Andes in South America and is native to
altitudes above 4,000 meters. Already the Incas used the cat for its health-optimizing effect, but it is
also used in modern medicine.
The primary effect of maca, which is why it is taken, is to help the body resist the negative effects of
stress. Maca root is a rich source of phytonutrients, enzymes, sterols, amino acids and fatty acids, but
it also contains vitamins and minerals.
Ingredients: 400 mg maca per capsule
Day Burn (60 capsules)
Living room complex fat burning formula
Day Burn is a complex daytime fat burner with the addition of glucomannan, cayenne pepper,
caffeine, bitter orange powder, green coffee powder and acetyl l-carnitine. Day Burn is not
specifically a pre-workout fat burner, but the body burns fat with a higher efficiency throughout the
day.
Ingredients: glucomannan 250 mg, cayenne pepper 100 mg, citrus aurantium 100 mg, green coffee
100 mg, caffeine 100 mg, l-carnitine 67 mg
Eye PRO (60 capsules)
Eye Pro is an eye vitamin with a high dose of lutein.
Panda Nutrition Eye PRO is a complex eye vitamin whose ingredients have a beneficial effect on eye
function. Eye PRO is recommended for anyone who regularly puts a strain on their eyes, whether it's
using a regular monitor, a smart device, or even working all day in artificial light.
What are the recommended symptoms of Eye PRO eye vitamins?
If by the end of the day your eyes are tired, blurred or just reddening, tearing and irritating, you need
extra vitamin intake, emphatically optimized for your eyes. These symptoms are likely to be caused
by a vitamin deficiency:
- blurred vision
- irritating cornea (the transparent part of the outer protective cover of the eyeball)
- frequent dry eyes
- reddening eyes
- twilight blindness
Ingredients: vitamin C 200 mg, vitamin E 24 mg, zinc 10 mg, copper 1 mg, selen 50 pg, lutein 25 mg,
vitamin B2 2,8 mg
Protein ONE (567 g)
Complex protein with added B6, fiber and lactase enzyme, Belgian chocolate-cappuccino flavor.
Protein ONE is a complex WPI protein preparation that is unique in the market, this protein combines
all the benefits of WPI proteins to which we have added extra vitamin B6, lactase enzyme and fiber.
Vitamin B6 helps in the absorption of protein, the enzyme lactase supports digestion so that those
who have trouble digesting lactose do not feel uncomfortable after consuming it. Fiber also supports
digestion. We chose the Belgian chocolate - cappuccino flavor, which we voted for on our Facebook
page, and the Panda fans chose these two flavours.